Quick and Easy Keto Marinara Sauce is a staple at our house and used in so many of our regular meals….Pizza anyone? With Kids in our house who love their pizza a good Keto Marinara sauce that I can whip up quickly is essential. I am posting this Marinara Sauce Recipe the same day as my Keto/Low Carb Mozzarella Cheese sticks, because the two go hand and hand. You can find my recipe for Keto/Low Carb Mozzarella Cheese sticks here.
How this recipe came about…
This Quick and Easy Keto Marinara sauce came about when my kids wanted…you guessed it Pizza "again"! I was completely out of any low sugar store bought Marinara sauce, as a result this recipe was born.
This Marinara sauce uses just a few ingredients and items you are likely to find in your pantry right now and its name says it all! QUICK AND EASY, add all the ingredients into a sauce pan, turn on the heat and stir!
Tricks and Tips…
If you have never tried Swerve Brown Sugar – used in this recipe, I highly recommend it. Your can purchase it here but if you don't you can use any sugar substitute of your choice, and it should turn out just fine!
This can store any left over Quick and Easy Keto Marinara Sauce in the fridge about 5 days. Its a pretty fool proof recipe. I have even made this modified with tomato sauce when in a pinch. To do this omit the water and use a 1.5 cups of tomato sauce, the consistency will be a bit thinner but the flavors will remain the same and often spreads easier on a pizza this is a personal preference.
I make a large batch of tomato sauce near the end of summer when I have tomatoes coming out of my ears and turn some of it into Quick and Easy Marinara sauce that I put into Jelly size jars and process in the canner for use all winter long!
Add a little wine to this Quick and Easy Keto Marinara sauce to braze some Chicken, add sauteed Peppers and onions and you have Chicken Caccitore. Whether your using this Quick and Easy Keto Marinara Sauce for creating new dishes, dipping your Mozzarella sticks in it, or creating your own gourmet pizzas at home we hope you love it! – The Scrambled Eggs.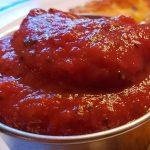 Print Recipe
Quick and Easy Keto Marinara Sauce
An Easy to Make Low Carb and Keto Marinara Sauce
Ingredients
6

oz

Tomato Paste

one small can

1

tsp

Garlic Powder

2 1/2

tsp

Red Wine Vinegar

3/4

cup

Water

2

tsp

Italian Seasoning

1

TBS

Swerve Brown Sugar

1

tsp

salt

or to taste

1

tsp

pepper

or to taste
Instructions
Add all ingredients into a sauce pan

Combine ingredients (whisk) and turn on heat and bring to a simmer.

Simmer 5-7 minutes and this is ready to enjoy!
Notes
This is seriously one of the easiest recipes, just add all of the ingredients and simmer.  
There is a note about the salt and pepper to taste, after the sauce has simmered for a few minutes, taste the sauce – caution it will be hot.  Add additional salt and pepper if desired.