Perfectly Tender Brisket is more than just a recipe.  Step by step instructions from trimming, temp, timing and slicing are all important and detailed out here for a Perfectly Tender Brisket every time! 
While you have the option to jump right to the recipe I encourage to read through all of the steps to create Perfectly Tender Brisket!
Brisket comes from the breast of the cow, and is one of the least tender cuts of beef.  But handled correctly can be tender and satisfying with incredible flavor.  I prefer to get the Packer Brisket when buying.  A packer brisket is quite large and includes two muscles that overlap each other. You can also purchase brisket divided and sold as two different pieces of meat.  The thicker end of the brisket muscle is called The Point and the thinner somewhat uniform side is called The Flat.  The point is heavily marbled with fats, it also has the most flavor.  You might have heard the point called "Fatty Brisket"
The point of the brisket is often best chopped/shredded.  It makes great Taco meat, burnt ends or sauced for BBQ sandwiches.  Often because of the fat content it takes a little longer to cook.  Chop or Shred this section and braise it in BBQ sauce to render down more of the fat. Believe me it will be outstanding.  The Flat is great for slicing and generally what we serve up.  The Flat is also the cut used for corned beef or making pastrami.  Now that we know the parts of the brisket lets get into prep!
Looking for a great low carb Bread to use for BBQ Sandwiches?
How to Trim a Brisket…
There is a lot of opinions on trimming out there. I am sharing what works for us here at The Scrambled Eggs. We are not entering any contests, we just want a flavorful, smokey and tender brisket to enjoy!
How much fat do you trim?
Trim fat until you have just ¼ of fat left on the meat. Some may argue with this approach but that is how we do it. Anything more than ¼ inch inhibits smoke flavor. The ¼ inch of fat is enough to keep the Brisket moist but still allows for the smoke flavor to penetrate the meat. A good brisket will have a lot of fat marbling, that is where the flavor comes from. But it's a good idea to leave about ¼ inch of fat on the outside of your brisket for optimal level of juiciness and flavor.
Trimming the Underside of the Brisket…
We start with the underside of the brisket. Lay your brisket fat side down on a large cutting board leaving the underside up.  Start by trimming big pieces of fat from the underside and any silverskin.  This step is optional but I find you get a better smoke to the meat if you take this step.  You will also find an often moon shaped thick and dense section of fat.  This thick section of fat will not break down during the cooking process so I remove this piece entirely, leaving just ¼ inch of fat.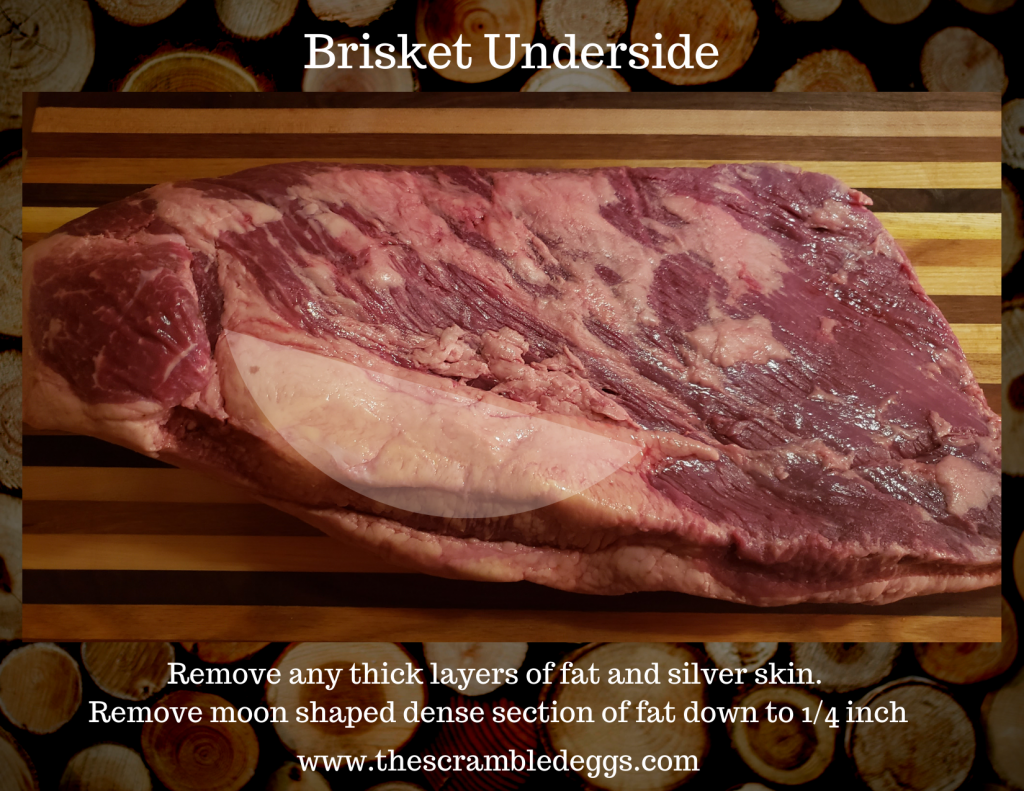 Trimming the Top Side of Brisket…
Once you're happy with the underside flip the brisket fat side up. On this side I cut thin layers until I reach the ¼ inch of desired fat. Take a few passes, don't take off too much at once or you might go too deep. If you start to see your meat peek through it's a little too deep. (If you find the meat peeking through, push the fat back down and go a little thinner on your cut, just pat the fat back down. It's forgiving!
You are going to find another deep section of fat on the point of the brisket that will not render down. I cut as much of this out as possible. Once this fat is removed you will be left with a flap of meat. I tend to leave mine in place and just press it down. Some chop this flap off. If you remove the flap you could braise it or smoke it along side of your brisket and pull it early… a brisket snack/sample while you wait!
What to do with Brisket Fat Trimmings?
I paid for a brisket and so much of it has been removed "FAT" what a waste! Not so, you can turn your brisket fat trimmings into beef tallow. Beef tallow is amazing for cooking in and seasoning your cast iron skillet. Use beef tallow instead of butter or olive oil. Tallow can also be used for a variety of different products ranging from soap to body butters/skin care. See the Tips and Tricks Section on how to make Beef Tallow.
Seasoning and Preparing your Brisket…
Mix your Seasoning/dry rub and apply to the outside of the brisket generously.  This recipe includes Chili powder, Onion Powder and Garlic, but sometimes just Salt and Pepper can really bring out the beef flavors of a brisket.  Apply your rub to the brisket generously and rub into the meat.  Next Wrap the brisket in plastic wrap.  Allow to rest in the fridge for 2-4 hours.  I usually allow mine to sit overnight.  Remove from the refrigerator about one hour prior to smoking/cooking.  This will give the brisket some time to warm up before putting it on the grill.  This will help it cook more consistent vs placing on the smoker cold.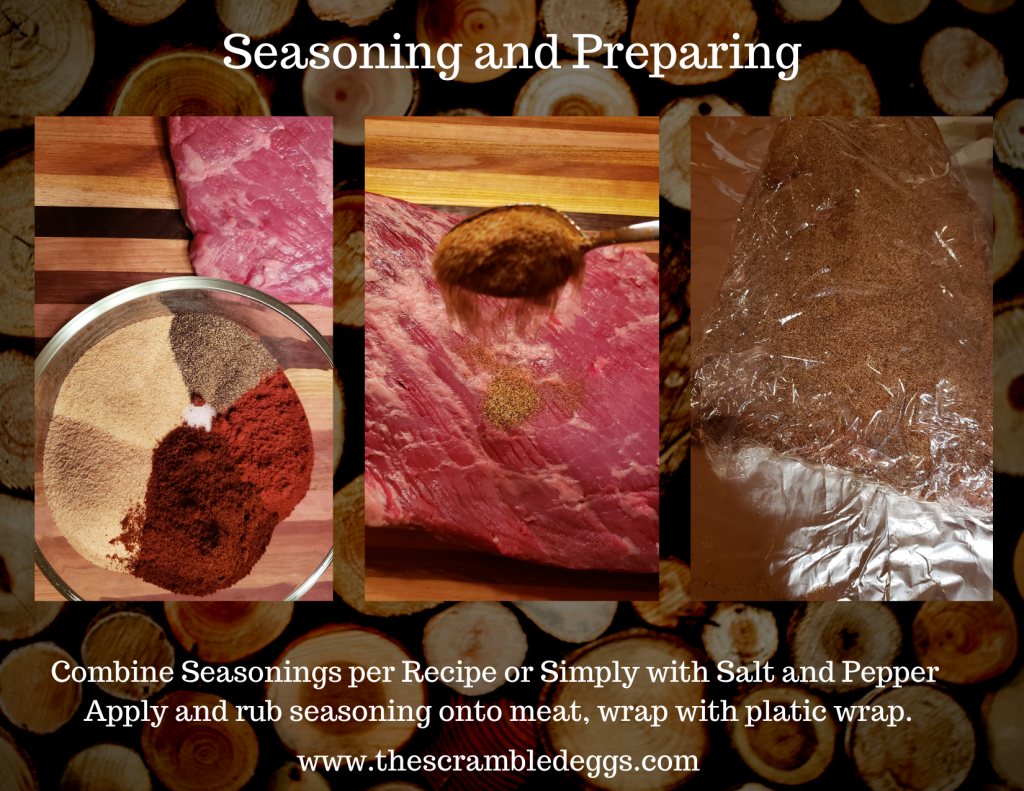 Cooking the Brisket…
Preheat your smoker to 225 degrees.  You do not want you smoker too hot, low and slow cooking is what you want.  Generally from the time you start the brisket (if using a packer brisket) to cutting and serving your looking at around 12 hours.  Remove the plastic wrap and place the brisket fat side up directly on the smoker.  Allow to cook at 225° for 5-8 hours or until the internal temperature reaches 160°.  
Once the brisket has reached an internal temperature of 160°, double wrap the brisket in foil.  Yes, two layers!  Add one and half cups of beef broth to the foil packet and return to the heat at 225° for about 3 hours longer or internal temperature has reached  204°
When you have reached the internal temp of 204° remove the brisket from the heat and rest. Brisket should rest for at least 1 hour. If time permits I wrap the brisket in a towel or cover with towels and rest for 2-3 hours. Resting the brisket will allow the juices to redistribute throughout the meat. If sliced right off the grill the juices will run out and you'll be left with a dry brisket. Don't skip this step!
A Digital Thermometer and Silicone Gloves are great tools to have when handling a hot brisket! I also love Rada knives, and a good sharpener makes easy work for this cut of meat!
Slicing the Brisket…
Finally, you have spent the last 12 hours waiting, mouth watering in anticipation. BUT…your not in the clear yet, how you slice your brisket matters! To achieve perfectly tender brisket you must slice against the grain. As mentioned above, the brisket has two parts which can make this a little tricky, but nothing you can't tackle.
You want to slice against the grain at a 90-degree angle starting with the flat.  (See image below –  cutting chart for reference)  I create slices that are about a pencil width.
Once you start to get to point of the meat you'll start to see two layers of muscle (see image above). Stop cutting, the direction of the grain has changed. Rotate your meat about 90 degrees so you can cut against the grain of the point cut. The point can also be removed and shredded/chopped for brisket tacos, stews, burnt ends or BBQ Sandwiches.
Tips and Tricks…
To make Beef Tallow cook down the trimmings in a heavy bottom pot with a lid. On Med-Low heat.  Render the fat for 4 hours stirring every 30 minutes.  Tallow will be finished when there are no remaining visible white fat.  The remaining pieces will be brown and crispy.  Turn off the heat and allow to cool before straining.  Strain first with a mesh strainer to get the large pieces and then using a cheese cloth (preferred) or coffee strainer if you don't have a cheese cloth strain any remaining pieces.  Store in a Jar with a tight fitting lid in the refrigerator for up to three months.  Use it to sear steaks or roast vegetables!  (You can also use a crock pot for rendering Beef Tallow)
Before cooking you can really see the grains of the meat. To easily identify where to cut once cooked remove a corner of the flat at 90 degree angle. Use that corner to help you find the direction when the brisket is done and ready to be sliced.
Check out these recipes to serve up with your Perfectly Tender Brisket!
Mashed Cauliflower,Keto Broccoli Salad and Gram's Lemon Pound Cake!
Sooo Ketolicious has amazing Premium Keto Pizza Crust! Clean Natural ingredients! Use the link below to get two crusts "FREE"!
Buy 6 get 2 free – Add 8 products to your cart and use discount code "GET2" at checkout
Print Recipe
Perfectly Tender Brisket
Perfectly Tender Brisket is more than just a recipe. Step by Step instructions from trimming, temperature, timing and slicing are all important and detailed out at www.thescrambledeggs.com for a perfectly tender brisket every time!
Ingredients
12-14

lb

Brisket

3

Tbsp

Garlic Powder

3

Tbsp

Onion Powder

3

Tbsp

Paprika

3

Tbsp

Chili Powder

1/2

Cup

Kosher Salt

1/2

Cup

Coarse Ground Black Pepper

1.5

Cups

Beef Broth
Instructions
Trim Brisket – See Details and photos at www.thescrambledeggs.com

Season and Wrap in Plastic Wrap, Allow to sit for minimum 1 hour

Remove wrap and cook brisket at 225 for 5-6 hours or until internal temperature reaches 160 degrees.

Double wrap brisket in foil and pour in 1 1/2 cups of beef broth. Return to heat at 225 continue cooking approx 3 hour or until internal temp reaches 204 degrees.

Remove from heat and wrap brisket in towel and rest for minimum 1 hour.

Slice and Enjoy! Slicing against the grain is very important. See Details and photos at www.thescrambledeggs.com