I recently received a call from my amazing neighbors as they had an over abundance of Swiss Chard. I happily accepted their offer to cut some of these beautiful greens. But what to do with all of this Swiss Chard? Well you make this amazing Low Carb Swiss Chard and Sausage soup, similar to Zuppa Toscana. This is one of our favorite soups!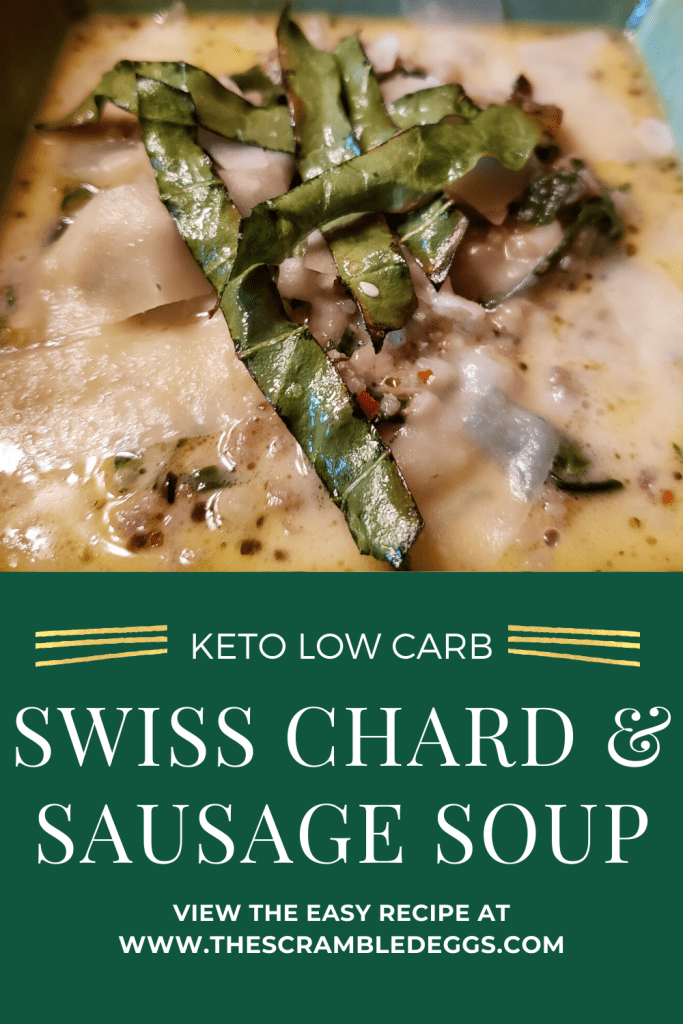 Swiss Chard is a leafy green vegetable from the spinach and beet family. It has a mild flavor and we actually prefer this as a substitution for Kale. Swiss Chard is low in calories but packs a ton of antioxidants and vitamins, making it a healthy choice to add to your dinner table.
How to prepare you Swiss Chard…
Some of my favorite ways to prepare Swiss Chard is in soups, made into chips, or even sauteed with bacon! Did you know you can blanch it and freeze it, a perfect solution when your garden is overflowing! You can add it frozen directly to your pot of cooking Swiss Chard & Sausage Soup for a quick and easy weeknight dinner.
Did Chips Catch your attention?
If your still dwelling on the word chip…they are easy and super yummy! Not all that pretty, but delightful snacks that go fast in our house! To make them you need to wash your chard, remove the stems and any large veins. Next is the most important part. Dry it, if you have a salad spinner this helps but paper towels are your friend to finish the drying process. Any water on the chips will result in steaming and you won't have a chip at all! Now just coat your chard with a small amount of olive oil. (enough to make it shine. There should not be oil dripping from the leaves) add some salt and sesame seeds (optional). Place your chard chips on a parchment lined cookie sheet and bake at 400 degrees for up to 5 minutes, flipping half way through. Tip: Slice your leaves into strips and prepare them just like the chips for a great add on topping to your Low Carb Swiss Chard & Sausage Soup.
Buying or Harvesting Chard…
If your buying your chard from a grocery store or market, be sure to look for vibrant color. The leaves and stems should be un-bruised and leaves should be firm. Chard leaves are always dark green but the stems can be a variety of colors (Rainbow Chard) While there is no flavor difference sometimes the red stems can add a red or pink hue to your other foods when it is cooked. Growing chard in your garden is super easy and here in the Northwest it grows year round, cut what you need and it just keeps growing!
The Soup…
I mentioned earlier that Swiss Chard and Sausage Soup is very similar to Zuppa Toscana. Of course there are no potatoes or kale…I use Cauliflower and Swiss Chard. If your not following a Low Carb or Keto way of eating you can easily sub out the cauliflower for potatoes. To make it even easier I use Cauliflower rice. Cauliflower rice can be purchased frozen at your local supermarket, in the frozen vegetable section. This soup comes together quickly, is low carb and keto friendly coming in at just 3 net carbs per serving and is a go to weeknight dinner for us on a chilly day. We hope you enjoy this amazing soup as much as we do! The Scrambled Eggs!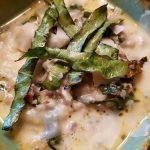 Print Recipe
Swiss Chard and Sausage Soup – Low Carb
Similar to Zuppa Toscana, this recipe uses Swiss Chard and Cauliflower Rice!
Ingredients
1

lb

Jimmy Dean Regular Sausage

1/2

onion

3

cloves

Minced Garlic

1/2

tsp

Red Pepper Flakes

1/2

tsp

Italian Seasoning

3

cups

Chicken Broth

1

cup

Cauliflower Rice

8

Large

Fresh or Frozen Swiss Chard Leaves (chopped)

1/4

cup

Parmesan cheese (fresh)

1

tbsp

Butter

1/2

cup

Heavy Whipping Cream
Instructions
In a large pot Brown your Sausage

When Sausage is almost finished add your diced onion and cook until onion starts to become transparent

Add your minced garlic, red pepper flakes and Italian seasoning and cook for another minute or two longer.

Next add tot he pot 3 cups of Chicken broth, and bring to a simmer.

Once simmering add your rough chopped fresh or frozen swiss chard, and cook another 5-7 minutes until the chard is reduced and wilted into the soup.

Finally add your butter, heavy cream and Parmesan cheese and cook another 5 minutes.

Serve immediately with optional recommended additions…thinly sliced Chard Chips (notes on how to complete in the post) and shaved Parmesan cheese!
Notes
Note:  If you are not counting or watching your carbs, you can easily replace the cauliflower for potatoes!  Just be aware this changes the calorie count as noted in this recipe.