Keto Pulled Pork is one of my favorite meals. Its is easy to make using a crock pot with simple every day ingredients. Prepared Pulled pork in the grocery store or at your favorite restaurant/food cart likely contains sugar. Sugar is often used in the rub, and almost always in the sauce. I love to use my smoker to cook pulled pork, but have found that with the right spices a slow cooker is the easy method with a great end result. Using the slow cooker makes it a great weeknight or busy weekend dinner.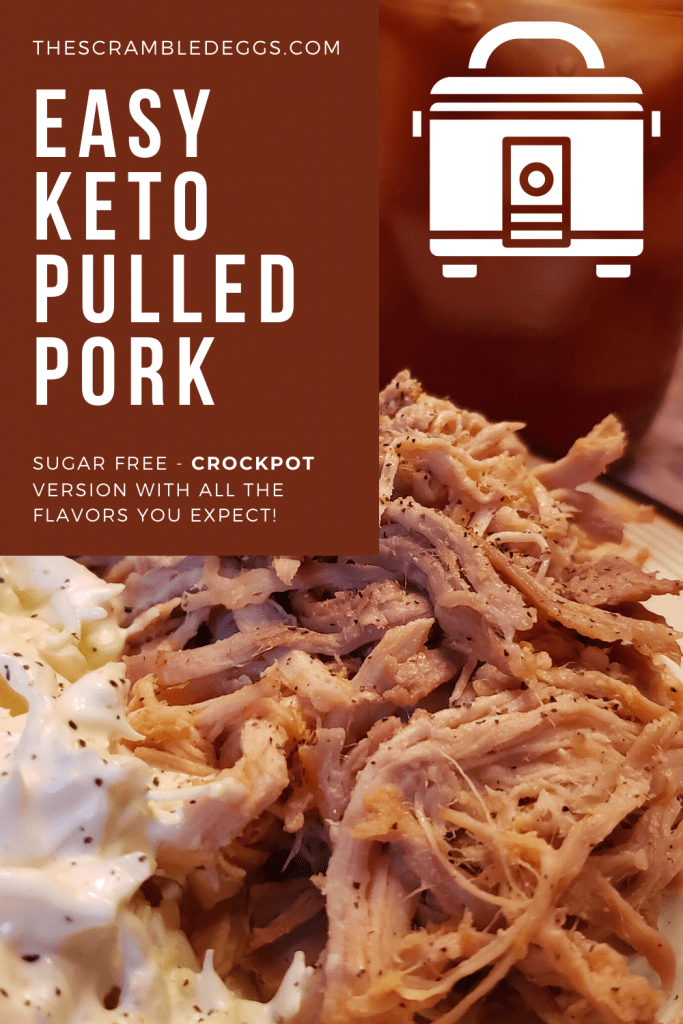 The Cut of Meat
The classic cut of meat used for pulled pork is called Pork Butt or Boston Butt. This cut actually comes from the shoulder. Shopping for the correct cut can be confusing because there is also a cut of meat called pork shoulder or pork roast. The pork roast sits just below the Pork Butt on the shoulder.
Keto pulled pork can also be made with a picnic/pork Roast. When cooking a pork/picnic roast in the crock pot it retains the moisture and can be a lower cost option. I prefer Pork Butt when making Keto pulled pork, as it is well marbled, with intramuscular fat. As a result it is fall apart tender, perfect for Keto Pulled Pork.
Seasoning and Cooking!
Now to the good stuff….You have a Pork Butt or Pork Roast what do you do? First step is seasoning. Because both cuts of meat are fairly large you are going to need to season it well. I use salt, pepper, and smoked paprika. Smoked paprika gives the Keto pulled pork an amazing flavor without the smoker.
You need to be generous with all three of these seasonings. I recommend you mix them in a bowl and then rub the mix onto the meat. For a Three pound cut of meat I would use about 2 Tbsp Salt, 1 Tbsp Pepper and 1 Tbsp Smoked Paprika. The amount of seasoning comes down to preference, but make sure your using enough. Next, I whisk together about 1/4 cup of vinegar, 1/4 cup of water and 2 Tbsp of Tomato Paste and add it to the crock pot.
I like the bit of flavor the tomato and vinegar give to the pork, this is also a preference thing and you can just replace the vinegar for water and omit the tomato paste if you prefer. Set your crockpot on low heat. You want to cook the pork low and slow. As a result of this cooking method, you pork will be moist and tender! The Keto pulled pork is done when the internal temperature reaches 190 degrees, use a thermometer (I use one like this). Remove your meat from the crock pot, and let is rest for 20-30 minutes before shredding.
Sides and Condiments
Keto Pulled pork is delicious with side of Simple Keto Slaw, you can find the recipe here. My favorite ready made BBQ sauces is G Hughes Smokehouse Sugar Free Hickory BBQ Sauce you can find it at many grocery stores, or purchase on amazon here. It is also listed under recipes for Ready Made Favorites. Check out all of the flavors! This BBQ sauce is a spot on delicious, and the only one that has its own place on my fridge door!
Keto Pulled Pork is prepared to be a Keto Friendly dish, but in reality its not a standard Keto/Low Carb meal which makes it a great option to take to a gathering, reunion, or potluck. You can eat it as is, while others can serve it in a baked potato, my husbands favorite or roll.
Enjoy, The Scrambled Eggs
Print Recipe
Keto Pulled Pork
Easy Crock Pot Version of Pulled Pork without the Sugar!
Ingredients
3

lb

Pork Butt; Boston Butt or Pork Roast

2

tbsp

Salt

or to taste

1

tbsp

Pepper

or to taste

1

tbsp

Smoked Paprika

or to taste

1/4

cup

Apple Cider Vinegar

optional, can replace with water

1/4

cup

Water

2

tbsp

Tomato Paste
Instructions
In a bowl combine dry spices to combine.

Rub your spices on the pork, if you don't have enough whip up another batch. You want to coat the meat, as it is a large cut you need to ensure it is covered.

Whisk together Vinegar, Water and Tomato Paste, and pour into crockpot.

Add the meat and cook on the lowest setting until the internal temperature reaches 190 degrees.
Notes
Make sure the entire cut of meat is covered in seasoning. 
Depending on your crock pot cooking time may vary, it make take but as a general rule its about 1.5-2 hours per pound so a 3 pound roast can be done in as little as 4.5 hours.  
It's pretty hard to overcook a pork shoulder when using this method as long as the moisture retained so be sure to use a lid – but once the meat starts to become tender, keep an eye on it you want to shut it off when the internal temperature reaches 190 degrees.  Use a cooking thermometer